Mathew White, BSc MSc PhD
Mat is a health and environmental psychologist specialising in Ecological Public Health, in particular the role of urban and natural environments on mental health and health-related behaviours (e.g. physical activity, smoking). He completed his PhD in 2004 at the University of Sheffield and has since worked at the universities of Jena (Germany), Plymouth and Exeter (UK) before moving to Vienna in October 2020 with his long-term collaborator Prof. Sabine Pahl (Chair of Urban and Environmental Psychology).
Mat has worked on several large-scale international projects (including two EU Horizon 2020s), which has enabled him to learn from experts across a wide-range of disciplines and specialities. He continues to manage two large international survey datasets from earlier projects 'Blue Health' and 'SOPHIE' (Seas Oceans and Public Health in Europe).
Working in close collaboration with multidisciplinary experts in medicine, health geography, health and environmental economics, and landscape architecture, he employs a range of methods to explore these issues including cross-sectional surveys, longitudinal cohort surveys, naturalistic field experiments, controlled laboratory experiments, RCTs, qualitative in-depth interviews, and systematic reviews.
In 2020 his multi-method, international work on blue spaces and health received both the Delcroix Prize for Oceans and Human Health, and a SHIFT Research award, and he was recognised as a Clarivate Web of Science 'Highly Cited Researcher' for his work between 2009-2019.
As well as continuing this line of work, a key part of his current role at the University of Vienna is to bridge the research being conducted within the CogSciHub and the new Urban and Environmental Psychology group.
2017 - 2021
Blue Communities in South East Asia
A £5.7million Global Challenges Research Fund (GCRF) project 'Building capacity for sustainable interactions with marine ecosystems for the benefit of the health, well-being, food security and livelihoods of coastal communities in East and Southeast Asia'. Blue Communities has 12 Sub-Projects and Mat is Project 6 Co-lead looking at Health & Wellbeing in Coastal Communities in the Philippines, Malaysia, Indonesia and Vietnam.
2017 - 2021
Green-blue spaces in Wales
A £600k National Institute for Health Research (NIHR) project looking at residential and recreational use of green and blue spaces and mental health in Wales. Mat is Exeter University co-lead in a three-university collaboration.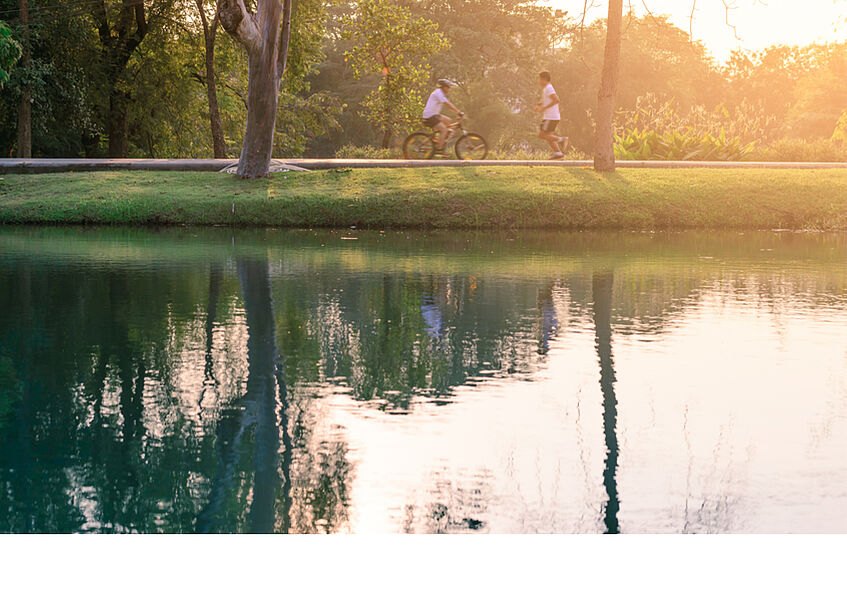 project extended
BlueHealth Austria
Austria was not one of the original 18 countries in the EU BlueHealth project so Mat extended that project to collect data from a representative sample of over 2,500 people in Austria in October 2020. Results explore how the Austrian population interact with green and blue spaces for their health and well-being and Mat is keen to speak to any Austrian-based researchers about using this data.
Mat's recently completed projects
Some of Mat's recent papers
10 Selected Recent papers
(*PhD Student / †Post-doc supervised by MW)
*Davison, S., White, M.P., Pahl, S., Taylor, T. Roberts, B., Economou, T., McMeel, O., Kellert, P., Fielding, K., & Fleming, L.E. (2021). Public concern about, and desire for research into, the human health effects of marine plastic pollution: Results from a 15-country survey across Europe and Australia. Global Environmental Change, 102309.

†Roberts, B., White, M.P., Davison, S., McMeel, O., Kellert, P., & Fleming, L.E. (2021). Public preferences for policy intervention to protect public health from maritime activities: A 14 European country study. Global Environmental Change, In press.
White, M.P., Elliott, L.R. Grellier, J., Economou, T., Bell, S., Bratman G.N., Criach, M., Gascon, M., Ojala, A, Roiko, A., Lima, M.L., Lohmus, M., Nieuwenhuijsen, M., Schultz, P. W., van den Bosch, M.A., & Fleming, L.E. (2021). Associations between green/blue spaces and mental health across 18 countries. Scientific Reports, 11, 8903.
†Alcock, I., White, M.P., Pahl, S., Duarte-Davidson, R., & Fleming, L.E. (2020). Associations between pro-environmental behaviour and neighbourhood nature, nature visits and nature appreciation: Evidence from a nationally representative survey in England. Environment International, 136, 105441.
†de Bell, S., White M.P., Griffiths, A., Darlow, A., Taylor, T.T., Wheeler, B.W., & Lovell, R. (2020). Spending time in the garden is positively associated with health and wellbeing: Results from a national survey in England. Landscape & Urban Planning, 103836.
†Garrett, J.K., White, M.P., Elliott, L.R., Wheeler, B.W. & Fleming, L.E. (2020). Urban nature and physical activity: Investigating associations using self-reported and accelerometer data and the role of household income. Environmental Research, 109899.
*Martin, L., White, M.P., Pahl, S., May, J., & Wheeler, B.W. (2020). Neighbourhood Greenspace and Smoking Prevalence: Results from a Nationally Representative Survey in England. Social Science & Medicine, 265, 113448.
†Tester-Jones, M., White, M.P., Elliott, L.R., Weinstein, N., Grellier, J., Economou, T., Cleary, A., Gascon, M., Korpela, K., Nieuwenhuijsen, M., O'Connor, A., Ojala, A., van den Bosch, M.A.& Fleming, L.E. (2020). Results from an 18 country cross-sectional study examining experiences of nature for people with common mental health disorders. Scientific Reports, 10, 19408.
White, M.P., Bratman, G., Pahl, S., & Young, G., Cracknell, D., & Elliott, L.R. (2020). Reactions to changes in biodiversity: Testing a prospect theory approach. J. of Environmental Psychology, 72, 101502.
White, M.P., Elliott, L.R., Gascon, M., Roberts, B., Fleming, L.E. (2020). Blue space, health and well-being: A narrative overview and synthesis of potential benefits. Environmental Research, 191, 110169.